About OutHistory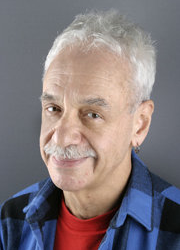 OutHistory.org was founded in October 2008 by Jonathan Ned Katz, author of Gay American History: Lesbians and Gay Men in the U.S.A. (1976) and other books on the history of sexuality and gender.
When the Internet became part of everyday life in the 21st century, Katz understood that the work of documenting, archiving, and presenting new discoveries and chronologies, begun in 1976 should continue on a freely accessible public history website.
Katz's long history as a community-based scholar and history activist led him to imagine this site as a place of active community participation in the process of discovering and writing LGBTQ histories.
Reflecting the importance of history from below to the civil rights and liberation movements of the 1960s, Katz welcomed the participation of amateur and professional historians; independent researchers working on their own and those based in colleges and universities. The result is the site you are exploring now, where all of us have a forum to learn, contribute, publish, and share our research with others.
You can see some of Katz's own original work for OutHistory.org here.
Click here for our current editorial board.
OutHistory.org has had important benefactors in its journey. An initial grant in 2005 from the Zebra Fund at the Funding Exchange allowed Katz to begin the work.
An initial two-year, $100,000 grant by the Arcus Foundation to design the first site using open-source MediaWiki software and to hire a part-time site director was made possible through collaboration with the Center for Lesbian and Gay Studies (CLAGS) at the City University of New York. Lauren Gutterman joined OutHistory as Chief Administrator.
A second Arcus grant supported content creation through the "Since Stonewall Local Histories Contest," an effort to encourage community history research. Many of those submissions are now featured content on this site.
In the fall of 2011, OutHistory director John D'Emilio, then Professor of History at the University of Illinois, Chicago, oversaw a redesign of the site using the Omeka archiving platform This new version of OutHistory launched in September 2013. D'Emilio used discretionary funds to support research assistantships dedicated to the site. Since 2019 D'Emilio has relinquished work on OutHistory to focus on a book of historical essays.
In 2013, Claire Bond Potter Professor of History at The New School, joined Katz and D'Emilio as a director. Since June 2019, Potter relinquished work on the site to focus on a political blog, Public Seminar.
In May 2016, OutHistory.org celebrated the 40th anniversary of Gay American History with a conference co-chaired by Potter and Daniel Marshall, Senior Lecturer in Writing and Literature, Deakin University, Melbourne, Australia, and managed by Kevin Ewing.
The 2016 conference, co-sponsored by Arcus, CLAGS, and The New School, brought together hundreds of LGBTQ historians and activists from around the United States to celebrate the state of our field and learn from each other.
In 2017 OutHistory.org added two new directors, Randall Sell and Kimon Keramidas. They moved on to other projects in 2020 and four new Associate Directors joined OutHistory's leadership.
Channing Gerard Joseph teaches at the University of Southern California's Annenberg School for Communication and Journalism. He is also an award-winning journalist and writer whose byline has appeared around the globe.
Joseph Plaster is Curator in Public Humanities for the Sheridan Libraries and University Museums and an Assistant Research Scholar at the Alexander Grass Humanities Institute. His research and teaching focuses on collaborative public humanities, performance studies, oral history, and queer studies.
OutHistory.org receives non-profit status as a project of the Fund for the City of New York. We are funded by donations from users like you. All donations go directly to content creation, editorial work, and design.